Hurricane Preparedness
Southeastern North Carolina is home to some of the most beautiful and pristine coastlines in the country, but we also know well the associated risks of living along the Atlantic coast during hurricane season. As you may be aware, newly formed Hurricane Sandy may pose a threat to Southeastern North Carolina later this week.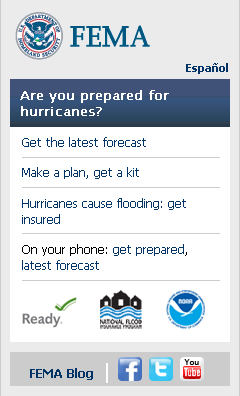 There are a number of resources available on the web to prepare for Hurricane Sandy:
To learn ways to prepare you, your family, and your business for a hurricane, visit Ready.gov for a step by step plan.


To follow Hurricane Sandy's path and related weather predictions, updates are available at the following link: http://www.nhc.noaa.gov/


To get instant updates on Twitter, you may follow @RedCross @FEMA @NHC_Atlantic and @WeatherChannel which will post updates on the trajectory of the storm as well as ways to prepare your home and your family.
For more information about resources in your community, click on the links below:
Below you will find a list of state and federal resources to help you and your family plan and prepare for a weather emergency.
State Resources


Federal Resources